Our Stories
The Extended Mind in Action – CPDL for School Leaders
CPDL for School Leaders – The Extended Mind In Action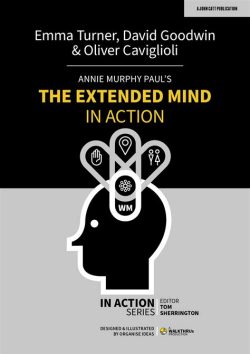 Inspiring Leaders is proud to be working in partnership with Oliver Caviglioli, Emma Turner and David Goodwin, authors of 'The Extended Mind In Action' book released in May 2022 to exclusively offer a high quality CPDL programme for school leaders.
The book builds on the work of Annie Murphy Paul's book The Extended Mind (a recent keynote speaker at the Inspiring Leaders Conference) to support school leaders to think about how use the concepts of human cognition in our everyday school practice.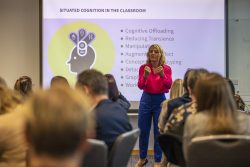 "The Extended Mind by award-winning science writer, Annie Murphy Paul, is not an out-and-out education book. But it is entirely focused on how learning and thinking happen, illustrating how a multi-modal approach to cognition can widen points of access to intellectual activity. Using evidence from cognitive science, neuroscience, and psychology, The Extended Mind might broaden your understanding of human cognition. The findings of Annie Murphy Paul parallel those of cognitive load theorists: memory is at the core of cognition, and the body, the environment and other people enrich learning. In this book, Emma Turner, David Goodwin, and Oliver Caviglioli demonstrate how teachers can help their students augment their thinking with their bodies (embodied cognition), external tools (situated cognition) and the people around them (distributed cognition). To ease your concerns, you will read how the works of several eminent researchers validate claims put forward. Teachers and leaders of all education phases will find this book enlightening; using practical strategies and cases studies, the authors highlight opportunities to enrich students' learning by widening points of access to intellectual activity." Amazon book description.

Working closely with Emma Turner we are now able to offer an opportunity for schools in the region to access 3 full days of training at a cost of £250 per person, to fully explore how this interesting work can be applied in schools.
Information about the programme be found by downloading the advert below.
Download the programme information here
To book your place on our programme please Book HERE
About the programme leader.
Emma Turner is currently Research & CPD Lead for Discovery Trust. She is an experienced primary school teacher and headteacher, having worked in primary for 24 years. She has been a national strategy advisor and is currently a member of the DfE specialist advisory board for flexible working as well as the DfE RSC regional lead for flex. Emma is the author of 4 bestselling education books, including "The Extended Mind, In Action" and "Simplicitus". She is the Co Host of the popular John Catt Podcast "Mind the Gap", with Tom Sherrington; advisory board member for the GEC (Global Equality Collective); Fellow of the Chartered College of Teaching; and regularly speaks at national and international events including Westminster Forum, Education Scotland, Tom Sherrington Masterclasses, WomenEd International, CST and ASCL. She is experienced in school improvement and leadership and supports schools nationally and internationally on developing effective T&L and leadership.
She regularly guest lectures on cognitive science including on Inspiring  Leaders SCITT, The ECF, and Liverpool John Moores University school of Education.